Developing, leasing, and managing commercial and residential communities of substance through creative collaboration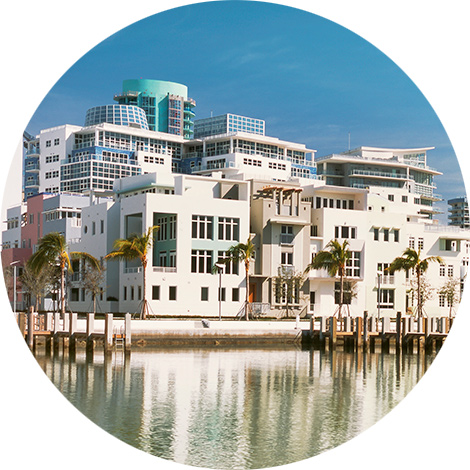 Founded in 1987 and recognized as an innovator in its space, Dacra is a real estate development company defined by its unique vision for the future and rigorous standard of creative excellence. With a history of developing commercial, residential, and mixed-use neighborhoods, Dacra projects are characterized by a distinctive combination of culture, commerce, design and technology. The company has played a pivotal role in Miami's evolution into a global capital through revitalization efforts, bold new architecture, sophisticated urban planning, and creative collaboration, fundamentally transforming the landscapes and economics of both Miami and Miami Beach.

With more than 2 million square feet of built projects, completed properties in the Dacra portfolio include major developments in South Beach's Art Deco District and Lincoln Road, and the New Urbanist residential community AQUA Allison Island. In collaboration with its partners, the company continues to expand the Miami Design District, the internationally acclaimed, architecturally significant 18-square block LEED-certified creative neighborhood, embarking on a fourth phase of development which will add an additional million square feet to the instantly recognizable, thriving destination known for global flagship retail, restaurants, museums and its public art program.

With an ever-evolving sense of possibility for a sustainable future, in 2021 the company announced a collaboration with Brookfield Asset Management and Tesla Energy to create the first Tesla Solar neighborhood and the United States' most sustainable residential community in Austin, Texas provisionally named SunHouse at Easton Park. Further, it was announced in 2022 that Dacra has invested in The Boring Company, an American infrastructure and tunnel construction services company founded by Elon Musk. Since 2005, the company has expanded the limits of design thinking through the production and curation of the annual collectible design fairs Design Miami/, Design Miami/Basel, and Design Miami/Paris which will debut in October of 2022.

Dacra develops communities where both innovation and preservation are celebrated – communities that catalyze their surrounding areas and create new models for what is possible when creativity, collaboration and technology unite.
History
Dacra was founded in 1987 by Miami native Craig Robins. The company first established a name for itself by partnering with other prominent local developers on the historical preservation of landmark hotels such as The Marlin, The Cavalier, The Leslie, The Kent, The Tides, and The Netherland, which was one of the first mixed-used projects on Ocean Drive.
Interested in building lasting communities of substance, Dacra enhanced its preservation work in the hospitality sector by developing new commercial and mixed-used projects along Española Way and Washington Avenue. These urban renewal efforts brought restaurants, shops, entertainment, and cultural programming to the beach. Years of meticulous renovation combined with carefully curated new development worked together to bring South Beach's Art Deco District roaring back to life. These efforts are credited with spurring an economic reawakening in the region.
Dacra continued to fuel development and growth in Miami Beach by acquiring and developing property along Lincoln Road. Dacra saw the potential of this thoroughfare and transformed it into a vital commercial and community hub by cultivating the right tenant mix, creating vibrant public spaces and cultural programming, and encouraging a strong pedestrian culture. Today, Lincoln Road remains a place to be and be seen for local residents and visitors alike.
In the late 1990s, Dacra acquired 8.5-acres of land on the southern tip of Allison Island in Miami Beach for residential development. Dacra set out to create a new standard for urban luxury living with this project called AQUA. To create AQUA, Dacra challenged urban planners Duany Plater-Zyberk; the architectural firms of Walter Chatham, Alex Gorlin, Alison Spear, Hariri & Hariri, Emanuela Frattini Magnuson, Brown Demandt, Suzanne Martinson, Albaisa Musumano, Allan Shulman, and Wolfberg Alvarez & Partners; and artists Richard Tuttle and Guillermo Kuitca to make their own bold contributions to this community. The result is a stunning waterfront enclave featuring 46 homes, 3 mid-rise condominiums, site-specific art installations, and state-of-the-art community amenities. AQUA still serves an international model for new urbanism.
For more than two decades, Dacra has also been the driving force behind the continued development of the Miami Design District. Today, the neighborhood is an international destination for fashion, luxury shopping, art, design, fine dining, and culture. The District was also the inspiration for Design Miami/, the accompanying design fair for Art Basel. Design Miami/ was founded in 2005 by Craig Robins and fairs are produced annually in Miami Beach, Florida and Basel, Switzerland.