Hospitality Design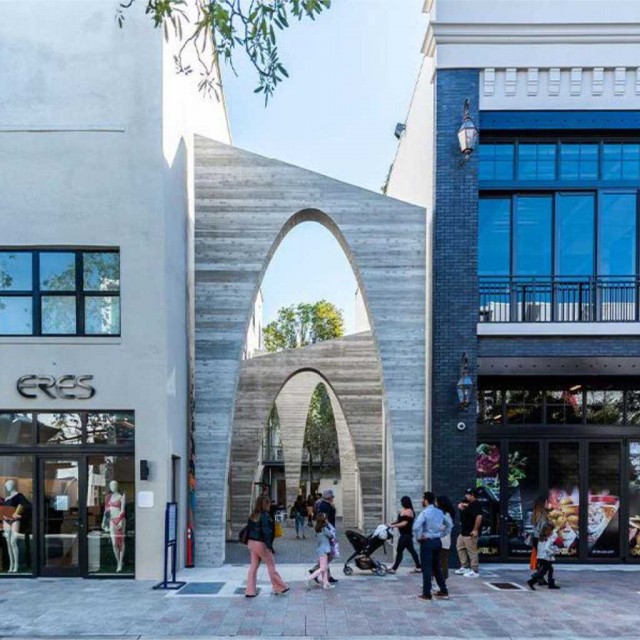 Craig Robins Ushers Miami Into a New Era
January 18, 2023
The real estate developer and Design Miami/ cofounder re-energized the Miami Design District.
Entrepreneur and real estate developer Craig Robins has been changing the scope of Miami for decades. From redeveloping South Beach to breathing new life into the Design District, Robins has dedicated himself to growing a culturally rich city with global appeal. Here, the Florida native discusses the past, present, and future.
How did you get your start?
Craig Robins: My father, Jerry Robins, has always been a great guide and teacher to me—both personally and professionally. He recently passed away but his impact on my life and how I approach business will stay with me forever. He was a great gift in my life, a huge presence, and someone people brought their problems to for insight and wisdom. He was in real estate, so I really grew up in the business. I watched. I learned. I was interested. When I graduated from law school, I started my own real estate development company, Dacra. I began by partnering with others in the market, like Tony Goldman and Chris Blackwell, to revitalize South Beach. Our first projects focused on the rehabilitation of historic Art Deco properties on the beach.
What was your experience like studying in Spain?
CR: I was very lucky to have the opportunity to study abroad in Spain at the University of Barcelona. It was an amazing experience. It opened my eyes to art in a new way. In Madrid I discovered Goya, and in Barcelona I discovered Picasso, Miro, Dali, Gaudí, and became interested in various types of work including surrealism. I fell in love with the architecture in the city too, which in itself is an art form. My deep appreciation for the intersection of art, architecture, and design was solidified in Spain. I also learned that our planet consists of much more than the United States.
How did you help redevelop Miami Beach? Why is preserving Miami's rich architectural history important to you?
CR: My very first projects in real estate focused on the preservation of Art Deco properties on Miami Beach. I partnered with Chris Blackwell on the historical preservation of landmark South Beach hotels such as the Marlin, the Cavalier, the Leslie, the Kent, the Tides, and the Netherlands—one of the first mixed-used projects on Ocean Drive. The preservation and revitalization of South Beach led to the transformation of the city into a celebration of architecture, art, and diversity.
My approach to development has probably been intuitively informed by my deep appreciation for how art, architecture, design interact to create the rich fabric of a place. I was blessed to have work that focused on my passions and interests and preserving these places really ignited something in me in those formative years in my career.
Why did you want to revive Miami's Design District?
CR: My business focus has always been to find ways to bring back central parts of my community that were no longer working. The Design District was a neglected part of town when I began acquiring properties here, but it had history and character. I knew with the right approach to revitalization, I could build a vibrant, thriving community with art, commerce, and culture at its core.
What were you looking to create for the area?
CR: Revitalizing the Miami Design District has been a passion for me and my partners at L Catterton. The area was forgotten and overlooked when Dacra started development here and people were skeptical. Every development initiative, especially one at this scale and one spanning so many years, has challenges. The key is to maintain focus and an intentional approach. The area was historically devoted to design and that's something I wanted to preserve in its identity. It was important that the neighborhood was commercially successful but also culturally enriching. With our programmed public events; the addition of cultural institutions like ICA Miami, the de la Cruz Collection, and Locust Projects; as well as our public art and design program, we have created a cultural campus of sorts for residents and visitors.
It's been really fulfilling to collaborate with the amazing brands who have opened flagship stores in the neighborhood. Hermès, Dior, Cartier, and Louis Vuitton's move to the Miami Design District was an especially exciting time, as was when we signed Gucci and Chanel to open in Paradise Plaza. Both were big milestones for us. Additionally, we've had amazing chef-operators who have created bold dining experiences in the District. From Mario Carbone and Major Food Group at ZZ's to Michael Schwartz' award-winning Michael's Genuine to the team at L'Atelier. It was great to see so many stars awarded during Michelin's inaugural year in Miami.
I set out to transform the Miami Design District into a thriving community and a laboratory for creativity with immersive experiences and offerings for everyone to enjoy. I feel like we've been successful in creating that and that the Miami Design District is a place where you can spend the day and be inspired.
How did you bring Art Basel to Miami Beach?
CR: When Art Basel was looking for a second city for a second fair, I strongly advocated for Miami. I worked closely with Sam Keller, Norman Braman, and the city to build bridges and to underscore where collaboration and partnerships could be developed to create something exceptional for the art world and for Miami.
As a show of support for the nascent event which began in 2001, the Miami Design District created a robust program of complementary programming and became the central hub for ancillary exhibitions, academic talks, and parties. This led to the creation, in 2005, of the annual collectible design fairs Design Miami/ and Design Miami/Basel, both produced concurrently with Art Basel. I knew that bringing the art fair here could elevate Miami on the international stage and really build it into a cultural powerhouse it rightly deserved to be. Before the art fair came here, people knew Miami for sun and sand—now it's a global destination.
In addition to receiving a LEED Gold Neighborhood Development certification, how has the Design District evolved since you stepped in?
CR: The LEED certification represents our commitment to innovation, sustainability, and responsible use of resources. The Miami Design District is the first project in the world to achieve Gold and third in the world to be certified in this version 4 of the LEED ND: Built rating system. It is an incredible achievement. But the evolution has been decades in the making.
For more than two decades, Dacra has been the driving force behind the ongoing development of the Miami Design District. In 2011, L Catterton Real Estate, an affiliate of LVMH, became our partner in the District. Today, the neighborhood is a renowned destination for shopping, dining, public art and design, wellness, outdoor performances, and museums. The 18 square blocks has helped position South Florida as a global cultural capital and is now embarking on a fourth phase of development, adding an additional 2 million square feet.
How do brands and retailers view the Miami Design District today?
CR: The brands recognize and appreciate that together we have curated a world-class neighborhood that showcases the best in art, architecture, and design. It has all happened in the spirit of collaboration. That's why so many brands place bold expressive flagship stores here. They want to contribute to this built environment in a significant and powerful way.
You are an art lover who has an extensive collection, and the cofounder of the Institute of Contemporary Art, Miami. How did you get into art?
CR: I've always loved creative pursuits and my time in Spain honed an appreciation for the enduring nature of exceptional work. My art collection features works by top contemporary artists from around the world, alongside contemporary and postwar, limited-edition design pieces. I live with my work, both at home and in my office. The collection exemplifies the thesis that art-enhanced spaces foster vibrant communities.
What do you hope the future holds for the Miami Design District, as well as Miami in general?
CR: Miami now has this interesting combination of being a tropical paradise but also a global city of cultural substance. People see the city again with new eyes, a city that trades on culture and creativity. The city is also attracting the tech and financial industry and drawing a lot of young professional talent because they appreciate the lifestyle they can enjoy in Miami. It's a time of growth and that is great to watch. We are busy, and having fun.